Benromach Scottish Distillery Information
Visit other distilleries in Scottish with the letter B ~~ Buy Benromach Single Malt Whisky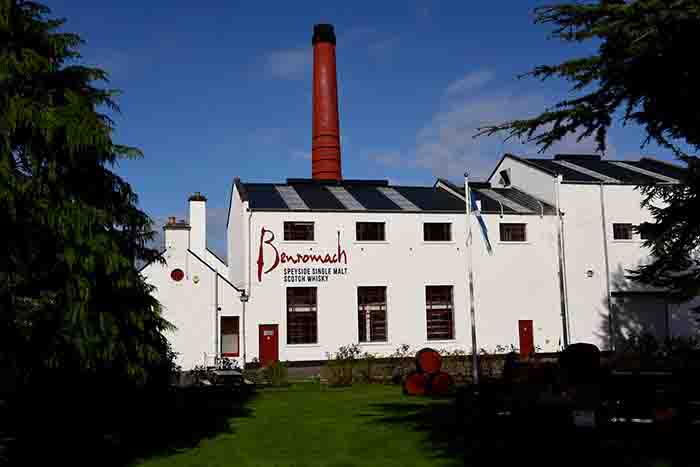 Located on the outskirts of the ancient market town of Forres in Speyside is Scotland's best kept secret. From a small and almost lost distillery emerged a single malt with distinctive qualities reflecting its exclusive hand made credentials as well as encapsulating the self-reliance, sophistication and modern values of Scotland today.
Established in 1898, the distillery experienced many closures and changes in ownership prior to 1993, when malt whisky specialists, Gordon & MacPhail rescued it. After being extensively re-equipped, Benromach was officially opened by HRH The Prince of Wales in 1998.
Just two experienced distillers create Benromach using the finest Scottish barley and the purest spring water from the nearby Romach Hills. They personally ensure that only the highest quality spirit is filled into sturdy oak casks before being left to mature at Benromach Distillery for many years.
At Benromach we passionately craft high quality single malt whisky with minimal impact on the environment.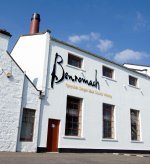 Golden in colour, with a unique warm mellow character – the secret of Benromach is too good to be kept. Stylish and sophisticated, Benromach is a drink to share special moments with special people.
Those wishing to discover the secret of Benromach should start their journey with the wonderful, Benromach Traditional – a rich and mellow single malt with fruit and malty tones, balanced with a hint of smoke.
Benromach is a boutique distillery; every part of the process is completely hands on. The traditional working practises and the small size of the distillery allows for innovation to be embraced.
The release and success of the first bottled organic single malt whisky to be fully certified by the Soil Association plays testament to this approach. The whole process – raw ingredients, distillation, maturation and bottling – is certified organic to the rigorous standards set by the Soil Association. Golden brown in colour, Benromach Organic is a fresh, vibrant whisky with a strong oak influence. The nose reveals sweet, charred oak aromas, bursting with fresh fruit notes of bananas and pineapples. The palate exposes sweet, vanilla and toffee flavours.
Benromach Origins is a series of special bottlings crafted to highlight how small changes in the art of whisky making can help shape the character of the final single malt. The first batch release in the series is produced using Golden Promise barley, grown in the heart of Speyside, resulting in a mouth watering single malt that displays sweet, creamy notes, toasted malt and very delicate peat smoke.
The Benromach range is presented in bespoke 70cl bottles and striking tins, which reinforce the boutique, sophisticated and contemporary values of the Benromach brand.
Benromach Speyside Single Malt Scotch Whisky is the Official Whisky of the Clipper 09-10 Round the World Yacht Race. Sir Robin Knox- Johnston is Global Brand Ambassador for Benromach. Sir Robin was the first person to sail single-handed and non stop around the world.
Details regarding the Benromach Visitor Centre
The location for the visitor centre and distillery is Benromach Distillery & Malt Whisky Centre, Invererne Road, Forres, Morayshire, IV36 3EB and contact telephone number is +44 (0)1309 675968. You can find out more details by visiting their website Benromach Distillery and Visitor Centre
Below are tasting note from the Benromach distillery
Please click the following links to download a pdf for the tasting note of the following malts. On the pdf you will find fill tasting notes describing the malts in great details. All the pdf are copyright for the Benromach distillery so please do not copy them without getting in touch from the distillery itself. You can get a really good insight to the quality of the range from Benromach
Benromach Madeira Finish - 45% ~~ Benromach Marsala Wood Finish - 45%
Benromach Monastrell Finish - 45% ~~ Benromach Origins Batch1 - 50% - Golden Promise
Benromach Peat Smoke 2nd - 46% - Batch 2 ~~ Benromach Peat Smoke - 46%
Benromach Sassicaia Finish - 45% ~~ Benromach Tokaji Finish - 45%
Benromach Traditional - 40% ~~ Benromach - 1968 - _43% ~~ Benromach Organic - 43%
Benromach Cask Strength 1981 - 54.2%
Where to buy Benromach Malts
Spirits By Post have malts available online from this distillery. These malts are below, but you can also see their full section on their website at Spirits By Post
BenRiach Latada 18 Year Old Single Malt Scotch Whisky
Distillery: Benriach
The BenRiach 18 Years Old Latada is part of the new heavily peated range. Originally matured in American oak casks, the whisky is then finished in Madeira casks. Read more
Buy Now for £79.70
World-wide delivery available - Price Subject to Change
The BenRiach Heart of Speyside Single Malt Whisky
Distillery: BenRiach
This smooth single malt cleverly captures fruit, honey, heather, spice and wood notes, in a fresh and lively combination. BenRiach, located in the Heartland of Malt Whisky, displays all the traditional charm of a Speyside distillery.... Read more
Buy Now for £24.00
World-wide delivery available - Price Subject to Change
The Benriach 22 Years Old Moscatal Cask Single Malt Scotch Whisky
Distillery: BenRiach
Built by John Duff in 1898, BenRiach is one of the few distilleries with its own on-site floor maltings, and draws its water from the Burnside Springs... Read more
Buy Now for £147
World-wide delivery available - Price Subject to Change
The BenRiach 25 Years Old Authenticus Peated Single Malt Whisky
Distillery: BenRiach
A richly peated malted barley is used as the cereal varietal to produce Authenticus, a unique and intriguing Peated Expression. This rare peated single malt from The Heart of Speyside has wonderful overtones of rich peat-reek, in harmony with honey, chocolate, raisins, oak-wood and fascinating spices..... Read more
Buy Now for £158.00
World-wide delivery available - Price Subject to Change
You can see more of the Benromach Single Malt Whisky Range on this website.
Share Planet Whiskies on social media